FEAR ME FOOLISH BLOGGERS, FOR I CONTROL YOUR WORLD THIS WEEK! HAHAHAHAHAHAHAHAHAHAHAHA!
Alright, now that I've got that out of my system, let's move on. For my first post, I would like to present you all with a game. This game, for simplicities sake, will be called "The Love-Pancake theory". Below are three rules. These rules are the only truths we have, these are the only things we know. However, you may add new rules during the course of the game. You may add a new rule by proving it to be true, and by having three more people agree than disagree with this rule.
1) Love is blind
2) Love= ♥
3) Love will keep us together.
Thus, given the rules above, your task is this: Diiscuss wether or not the picture below is love. Remember: If you wish to disproove this as love, you must either prove it is not through the rules above, or create a new rule that proves it is not. No new rule can directly contradict another, i.e there cannot be a rule stating "Love can see". However, there can be a rule that shows the picture is not love, i.e "Love is a battlefield".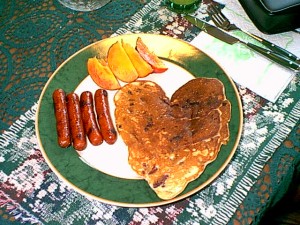 I've either confused you all and no one will post on this, or this will work out to my own devious plan and we will have people arguing about wether or not love is a heart-shaped pancake.